| | | |
| --- | --- | --- |
| What's an Arrester? | | |
---
Our Focus

ArresterWorks is an International Consulting Firm focused on assisting others in improving power system reliability through design, production and application of arresters to mitigate the effect of lightning and other transients.

See how ArresterWorks can help you if you are a Manufacturer, Educator, or User of Arresters
---
Topics of Interest

---
Insulation Coordination Fundamentals Webinar
This online seminar, being offered by ArresterWorks, is designed for students who are familiar with transient software and are looking to expand their knowledge on the concepts of modeling arresters and the necessary principles of a insulation coordination study for surge protection. ATP and ATPDraw will be used for the course discussions, however participents may use the software they have available and are familiar with.

Date:
Start Time:
Session Duration:
Meeting Software:
AMay 4,11,18, and June 1, 8, 2017
9:00 AM EDT
2 to 3 hours (depending on session)
Go-To-Meeting
Click here for details
---
Surge Protection Lecture at Florida State University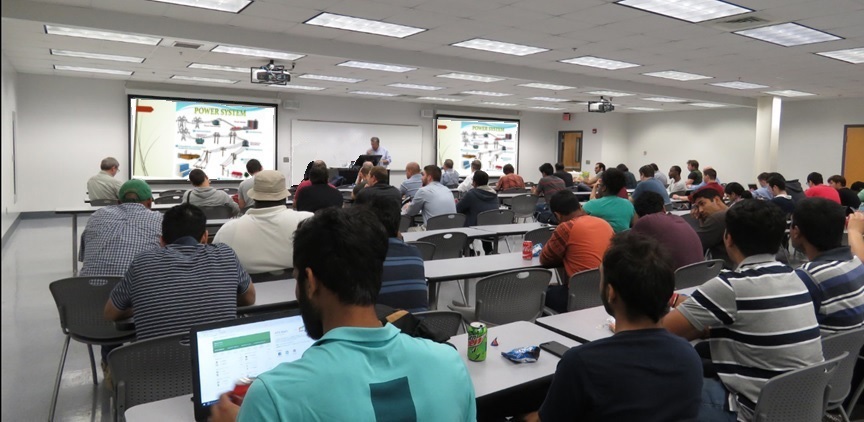 On Tuesday, March 28, 2017 ArresterWorks was honored to presented to 65 plus graduate students of the FSU electrical engineering department. Jonathan Woodworth lectured on the effects of lightning surges on power systems and methods of mitigating the damage to power equipment with arresters.
Jonathan was invited to speak at FSU by Dr. Thomas Bellarmine, Ph.D., P.E. as part of the IEEE Power and Energy Distinguished Lecturer Program.
---
CEATI Grounding and Lightning Fall Conference

"Grounding and lightning issues continue to be an important area of development for the industry. New and better ways to design, construct and test grounding and lightning systems are progressing in order to meet higher standards and changing industry demands. This conference is an open forum for information exchange, technical presentations, and training. It will focus on seven overarching themes that will discuss ideas and experiences for the benefit of the participants and industry as a whole."

Click here for details
---
ArreseterFacts 017 Companion Video
Understanding BackFlash
---
Overview of IEC 60099-4
Energy Handling Tests - ArresterFacts 033 R3
| | |
| --- | --- |
| | ArresterFact 033 r3 is an update to the original and now covers the changes as they were released in the 2014 Edition 3.0 of IEC 60099-4. There were many improvements in this edition over edition 2.0 from 2009. The most significant change however was the introduction of a new energy rating system. The Long Duration (LD) discharge classes 1-5 are now history and the new Qrs and Wth tests are used for the energy rating of Station and Distribution Arresters. This is the third edition of this ArresterFacts and is now up to date with what is published in the standard. . |
---
MOV Arrester AC Conduction Simulation Tool Demo
ArresterFacts 027 Arrester Reference Voltage
---
Re-release as Video
ArresterFacts 009 What is a Lightning Arrester
---
New Release
ArresterFacts 044 Gapped MOV Technology
---
June 2016

Surge Protection Seminar Scheduled for June 2016

ArresterWorks Presents
Surge Protection Seminar
June 23-24, 2016
Hosted by Siemens Energy

ArresterWorks' surge protection seminar is an in-depth course covering the different types of arresters, their design fundamentals and their applications to protect power systems. This course is designed to help all those who deal with surge protection and/or system reliability.

Who Should Attend:
• Anyone new to the industry who wishes to learn the fundamentals of surge and lightning protection
• Standards engineers responsible for maintaining system construction and equipment standards
• Reliability engineers and other reliability personnel responsible for continuous improvement
• Substation designers, distribution system designers, and transmission line designers
• Power system operations and maintenance supervisors
• Power engineering personnel who wish to broaden their scope of system understanding
• Experienced engineers that want to learn about the latest energy ratings of arresters

Course Brochure


When: Thursday June 23rd full day and Friday June 24th half day
Where: Siemens Energy Inc, 444 Highway 49 South, Richland, MS
Fee: 899 USD


Contact: Deborah.Limburg@ArresterWorks.com. for questions.


---
April 2016
Are you sure your substation is protected from what might be coming down the line.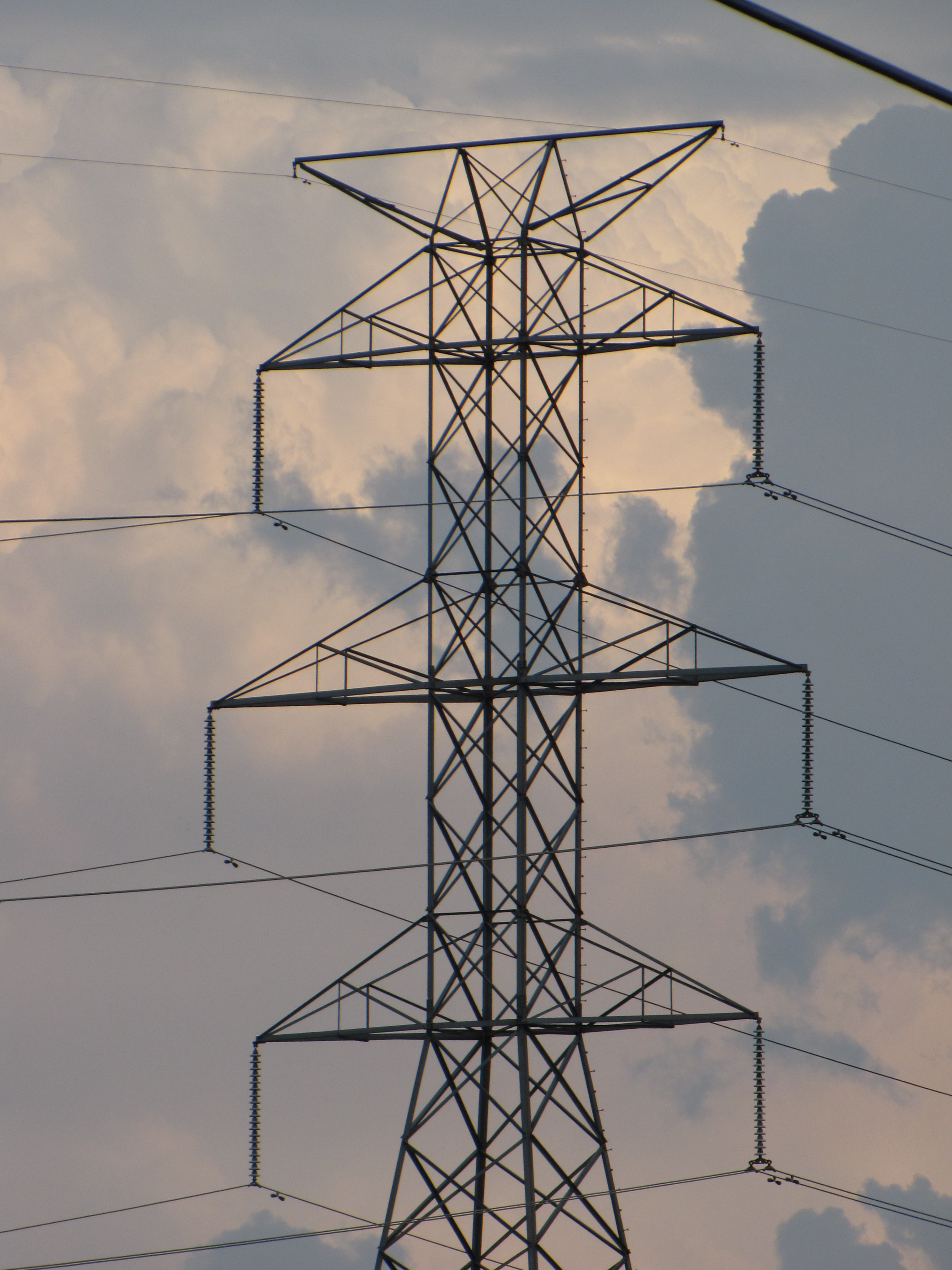 The assets in a substation can be worth millions. The surge protection of these assets is critical to maintaining a healthy power delivery system. One way to ensure that all the necessary protection is in place is to have an insulation coordination study of your substation.

ArresterWorks routinely does studies for utilities, wind farms, PV farms, transformer manufactures and EPC firms. Visit our FAQ page on insulation coordination studies for more information .

Look for our ArresterFacts on this topic coming in May. In the mean time we invite you to call or email us with any additional questions you might have or if we can be of service.


---
October 2015
INMR 2015 World Congress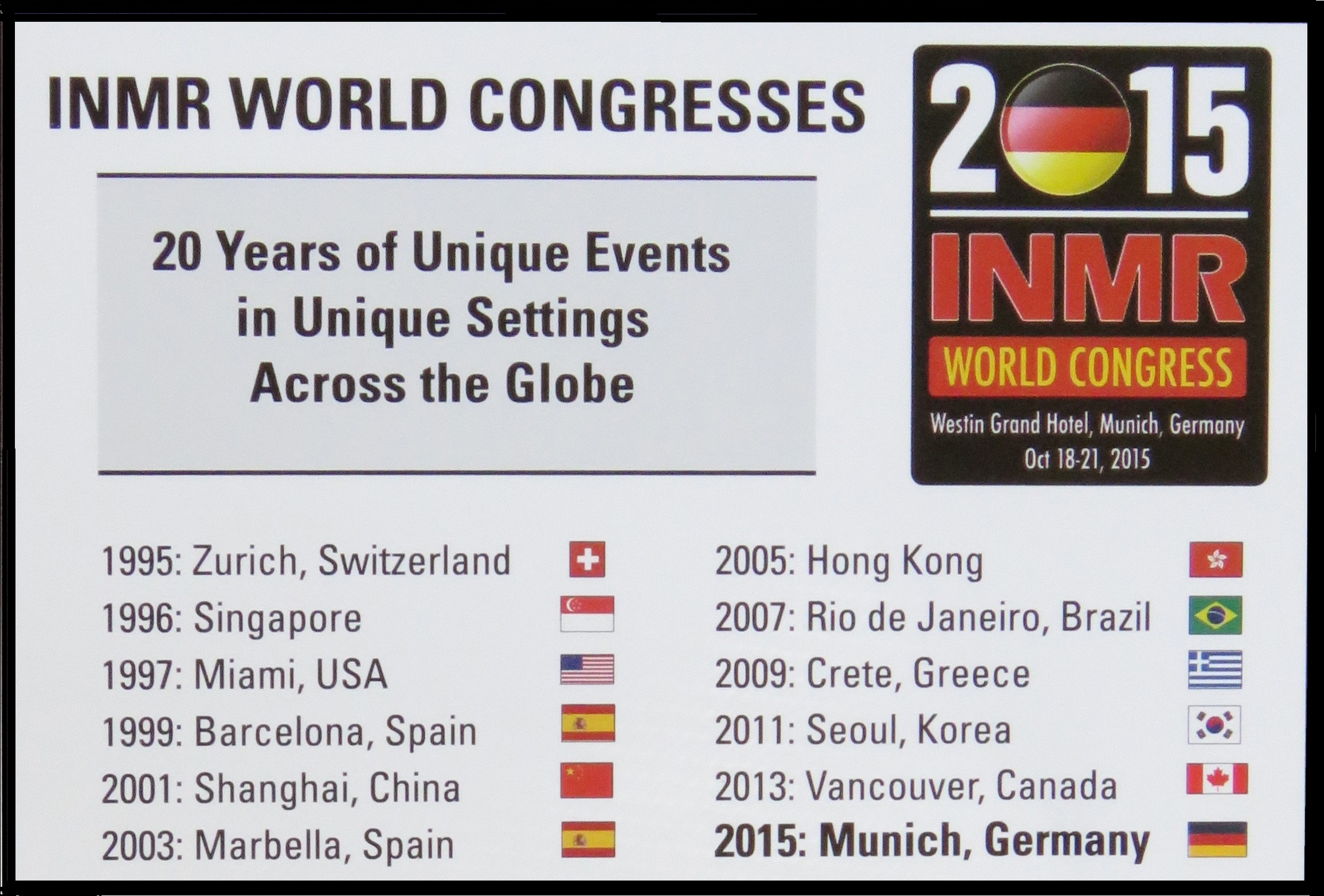 On October 18 – 21, over 600 attendees from 60 countries came to Munich Germany, for the 2015 INMR World Congress. This year's congress marked 20 years of INMR bringing the world together for discussions on insulator, arresters, bushings, and cable accessories.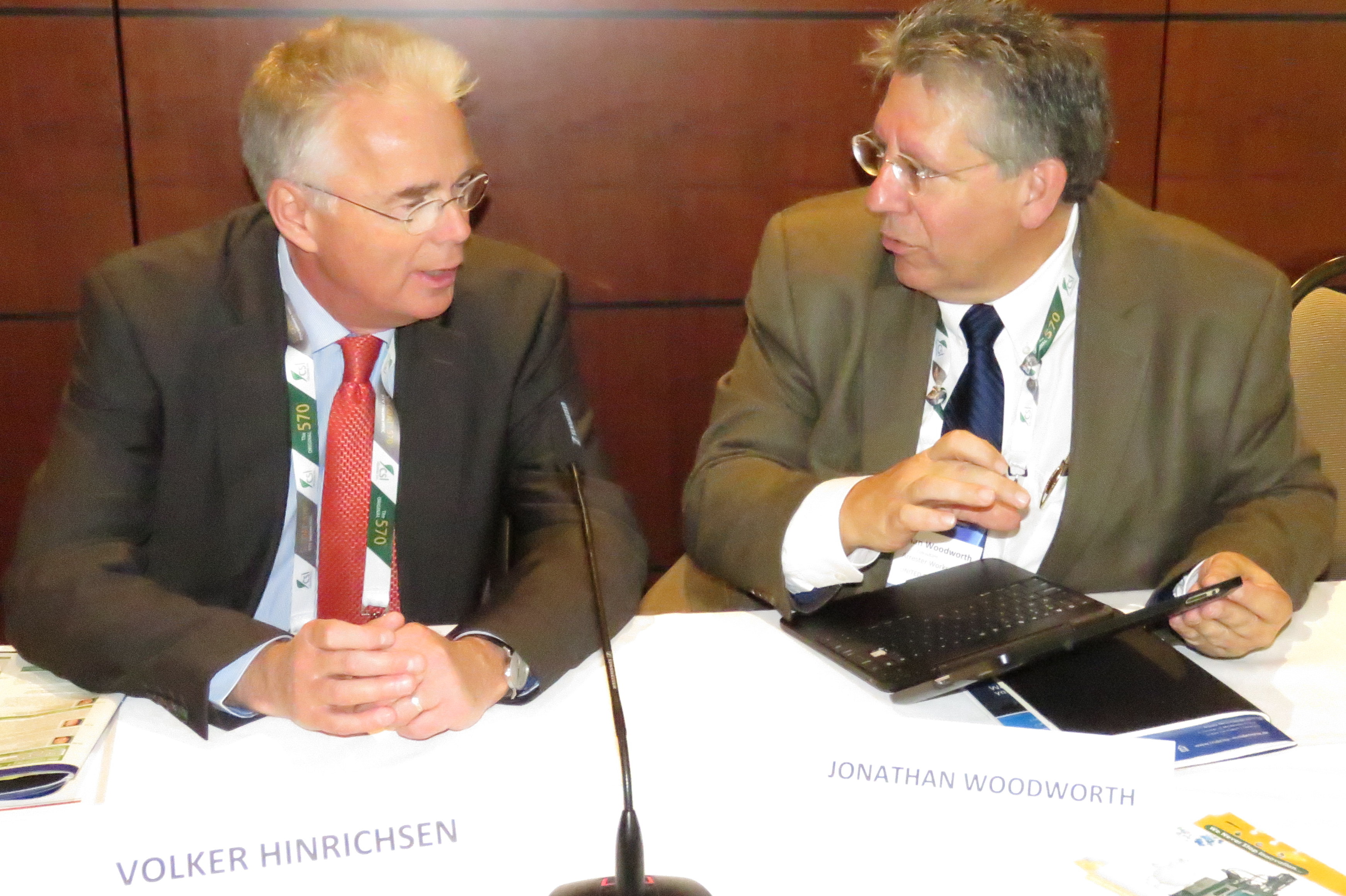 The arrester session, a relatively new addition to the congress, was co-chaired by Jonathan Woodworth of ArresterWorks and Professor Hinrichsen of TU Darmstadt. The session consisted of eighteen papers covering topics of importance to both the manufacturers and the users of surge protective devices. Talks included discussion on arrester monitoring devices, IEC standards, voltage distribution along an arrester, and arresters of the future.

Jonathan Woodworth presented a paper entitled "Arrester 2050". The subject matter was a call to the arrester world for a paradigm shift in surge protection. He emphasized that the introduction of polymer housed arrester in the 1980's was the last major change in the arrester industry. Mr. Woodworth stated that he envisions arrester 2050 being lighter, greener, self-installing and much smaller than today. He continued by stating that with improved MOV characteristics, the arrester 2050 may not even resemble arresters as we know them. Although he made light of these futuristic changes, the underlying message was a serious one in that the arrester designers of the future will have to let go of the boundaries of today if they want to be the innovators of tomorrow.

Read Arrester 2050 paper.


---
August 2015
Standards Update

As of this past May, the IEC and IEEE High Voltage Surge Arrester Committees have initiated a Harmonization Task force. We will be meeting 2 times per year for the next few years with the goal of harmonizing C62.11 and IEC 60099-4. At the present time there are several sections that were written with harmonization in mind and it has worked quite well. There are about 5 or more sections in the design tests that can be unified and harmonized. Our first tasks are to identify these sections and start the process of making them as similar as possible if not identical. More info in early November on how it is going.


---
December 2014
New IEC Arrester Standard Published This Year

60099-4 Ed. 3.0 - 2014: Surge arresters - Part 4:
Metal-oxide surge arresters without gaps for a.c. systems

A new concept of arrester classification and energy withstand testing is introduced: the line discharge classification is replaced by a classification based on repetitive charge transfer rating Qrs, thermal energy rating Withzz and thermal charge transfer rating Qth, respectively. The new concept clearly differentiates between impulse and thermal energy handling capability, which is reflected in the test procedures and minimum pass criteria.

The Definitions of these ratings are as follows:


Thermal Energy Rating, Wth: The energy, given in kJ/kV of Ur, which may be dissipated by an arrester or arrester section in a thermal recovery test without causing a thermal runaway.
Repetitive Charge Transfer Rating, Qrs: The charge, given in coulombs (C) in the form of a single event that can be transferred at least 20 times ( at time intervals that allow for cooling to ambient temperature ) through an arrester without causing mechanical failure or unacceptable electrical degradation to the MO resistors.
Thermal Charge Transfer Rating, Qth: The charge, given in coulombs (C) that may be transferred through an arrester or arrester section in a thermal recovery test without causing a thermal runaway.
As shown in the table below, Station Class arresters will have a Qrs and Wth rating. Distribution arresters will have a Qrs and Qth rating.

The newest version of the publication can be purchased at the IEC Web Store.
---
October 2014
IEC MT4 and MT10 Fall Meeting attended
by delegates from 7 Countries

This year's fall IEC MT4 and MT10 meetings were held in Niagara Falls Canada. Eighteen maintenance team members travelled from around the world to attend the meetings.

The focus of the meets were on the next editions of IEC 60099-4, 60099-5, 60099-6 and 60099-8. All standards will be published in the next 3 years. A Technical Report that will likely have the Designation 60099-10 is also in the works and will contain all the rationale of required tests. This will be a first for the IEC and should add significant value to our work.

A special thanks to this years sponsors:
NEMA
Eaton's Cooper Power Systems
Hubble Power Systems

IEEE SPDC Fall Meeting held in Clearwater, Florida

In 2012 the last edition of IEEE C62.11 was published. One of the main objective of the meetings in Clearwater was to work on the next edition. The new release will include new sections related to transmission line arresters as well as streamlined sections related to all other arresters. Target publication is 2018


---
September 2014
ArresterNews Features INMR 2015 World Congress Call for Papers and New ArresterFacts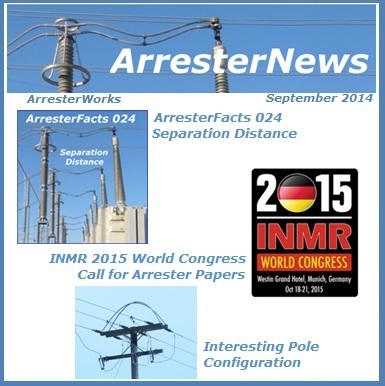 Articles Inside
1. ArresterFacts 024 - Separation Distance
2. INMR 2015 World Congress Call for Papers
3. Photos of Interest: Interesting Configuration


Online version of September ArresterNews



---
June/July 2014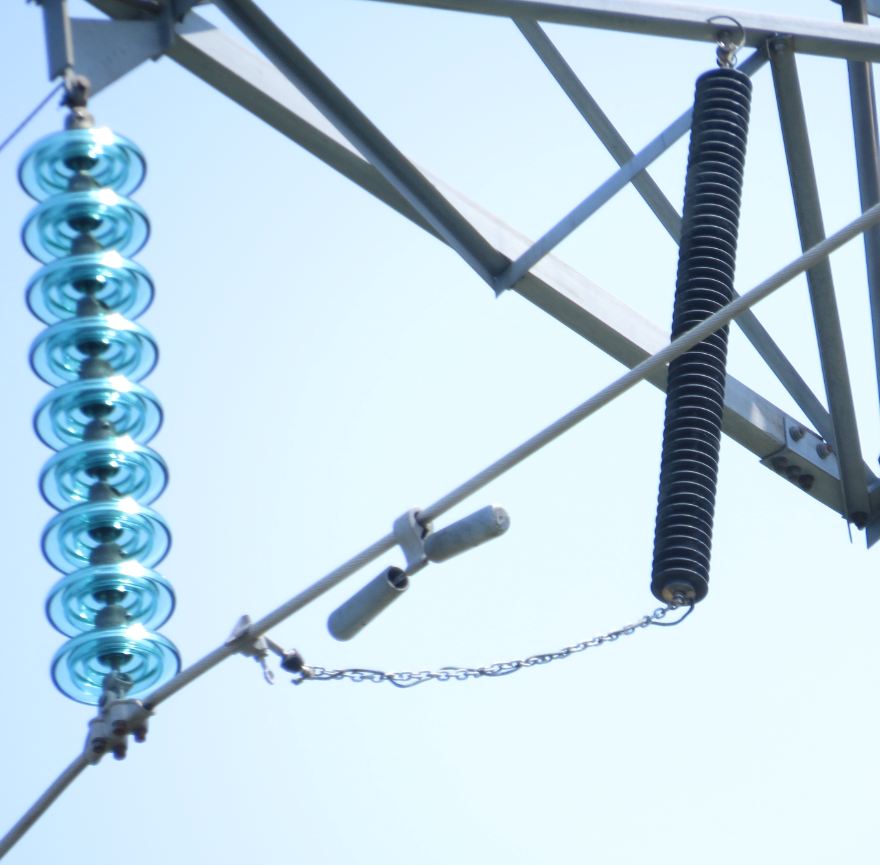 ArresterWorks visits Maritime Electric and NB Power

During the months of June and July, ArresterWorks visited New Brunswick Power and Maritime Electric to present Overvoltage Protection seminars. In both seminars the participants brought real world surge protection issues to the table for discussion, enhancing the value of the seminar. We were pleased to receive the following comment from Shelly Feltmate, Senior Engineer – Transmission Lines, at New Brunswick Power: "The ArresterWorks – Overvoltage Protection Seminar was by far one of the most informative and interesting seminars I have attended to date. By keeping the seminar extremely interactive with the attendees, the material covered was easily tailored to our experiences and/or interests as a company."

Also as part of this trip we surveyed the New Brunswick and Prince Edward Island Provinces documenting and photographing the different methods of lightning protection of the power systems.
---
June 2014

ArresterWorks to develop guide for the condition assessment of lightning arresters installed on transmission lines for CEATI International (www.ceati.com )

Arresters have been protecting power lines in substation and on distribution lines for more than a century. Despite this long history, it has only been in the last 20 years that arresters have begun to be used on sub-transmission and transmission lines. This relatively new application of the arrester has left many users questioning how to verify the health of the arresters they have in service. At present, there are no comprehensive guides for the maintenance of arresters on transmission lines; however, this problem will soon be resolved.

CEATI International has retained ArresterWorks to write a transmission line arrester guide that will cover both the electrical and the mechanical maintenance aspects. The primary objective of this project will be to produce a guide that clearly shows how to use existing arrester condition assessment tools on transmission line arresters. The guide will assist CEATI Transmission Line Asset Management group members in understanding the health and the expected remaining life of their arresters, with focus on assessment methods currently available for both Non-Gapped Line Arresters (NGLA) and Externally Gapped Line Arresters (EGLA).
---
May 2014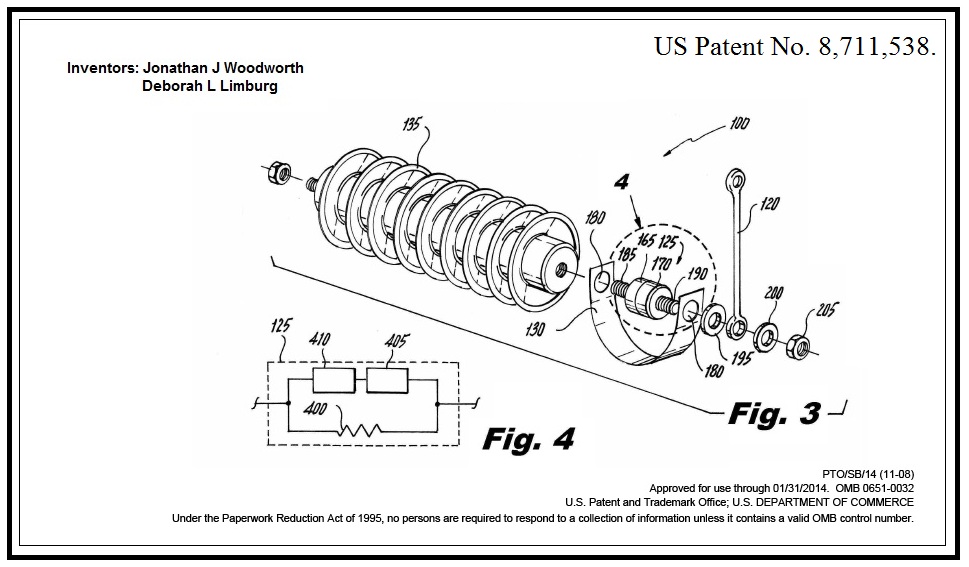 ArresterWorks granted its first arrester patent.
On April 29, 2014 ArresterWorks was granted US Patent No. 8,711,538 for an EGLA failure indicator. This device now makes the EGLA a more desirable arrester for line protection in that not only does it restore the original system BIL if the arrester should fail, but it also provides a visual indication that the arrester has failed.
---
April 2014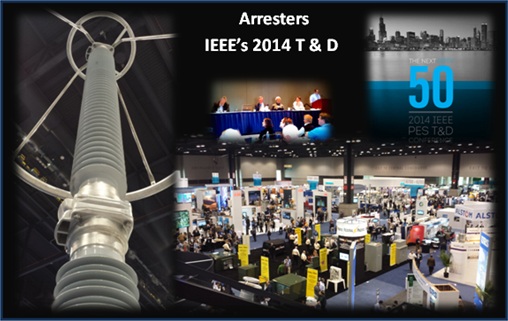 The 2014 IEEE PES T&D Conference & Exposition brought hundreds of manufactures and users together in Chicago. On display were a number of arresters in various applications. Click here to view photos from the exposition.

Besides the exposition there was a variety of technical papers presented. The Lightning Performance of Overhead Lines panel session was comprised of four informative presentations. Among them was a presentation by ArresterWorks', Jonathan Woodworth on Externally Gapped Line Arresters - A Critical Design Review
---
March 2014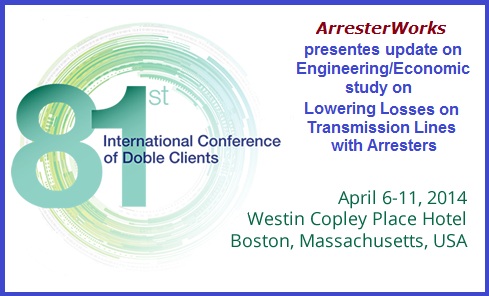 ArresterWorks' Jonathan Woodworth presented an update on engineering/economic study on lowering losses of transmission lines with arresters at the Doble International Conference in Boston, Massachusetts.

Power systems experience losses in many forms and a great deal of effort is put forth to reduce these losses in many areas. However the losses related to overhead ground wires (OHGW) of transmission lines arerarely mitigated on systems below 345kV. The losses relating to OHGWs are due to inductive currents from the phase conductors onto the OHGW or sometimes called shield wires. The study showed how arresters can be used in place of OHGWs on transmission lines to 100% eliminate induced losses and at the same time increase the reliability of the system.

The study was funded in part by NYSERDA and was conducted in cooperation with ArresterWorks, Ceralink Inc, Rensselaer University and Cornell University.
---
September 2013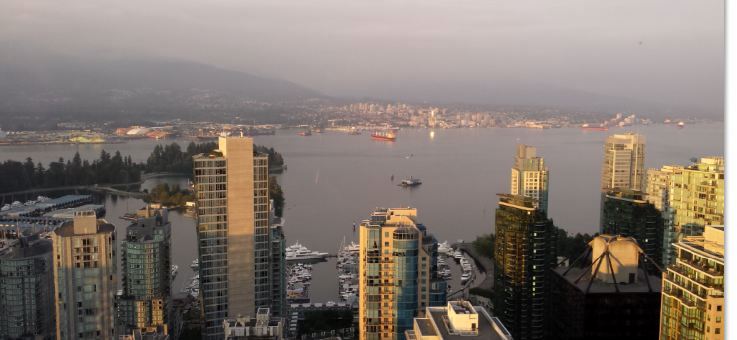 Vancouver's sunny days were the perfect backdrop for
INMR's 2013 World Congress
People involved in surge protection, from around the world, came to Vancouver to attended the congress.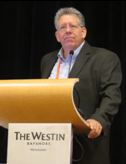 ArresterWorks' Jonathan Woodworth, session chair and co-organizer of the Congress Arrester Session, presented an engineering/economic study on lowering losses of transmission lines with arresters. The study, which is being funded in part by NYSERDA, is still in process and is being conducted in cooperation with ArresterWorks, Ceralink Inc, Rensselaer University and Cornell University.
More information on the project will be available in the future as it advances.
---
August 2013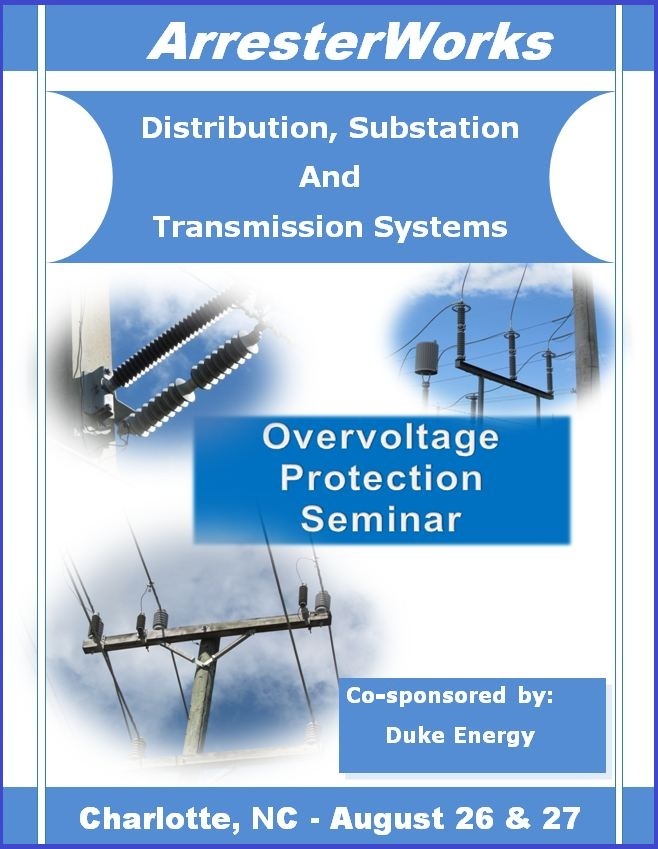 ArresterWorks holds sucessful
Overvoltage Protection Seminar
in cooperation with
Duke Energy
Charlotte, NC

---
July 2013
June/July ArresterNews
Articles Inside
1. ArresterFacts 021 - Arrester Ground Lead Material
Can Steel be Used
2. August OVP Seminar - ArresterWorks
Cosponsored by Duke Energy
3. Photos of Interest - Find the Arrester
---
May 2013
May ArresterNews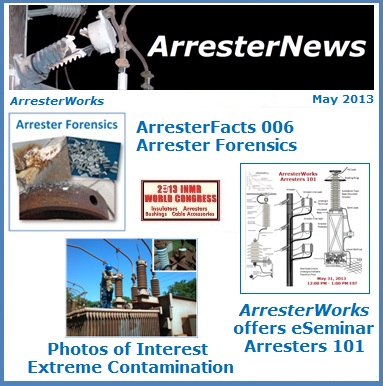 Articles Inside
1. ArresterFacts 006 - Arrester Forensics
2. eSeminar - Arresters 101
3. Photos of Interest - Extreme Contamination

Online version of May ArresterNews
---
April 2013
Insulation Coordination FAQ
A quick overview of Insulation Coordination for Power Systems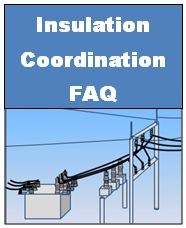 Overview
This is a quick overview of the complex subject of Insulation Coordination. It contains links to example studies and ArreterFacts 037 on the same subject.
New FAQ Page on Line
Down Load the FAQ
April 2013 ArresterNews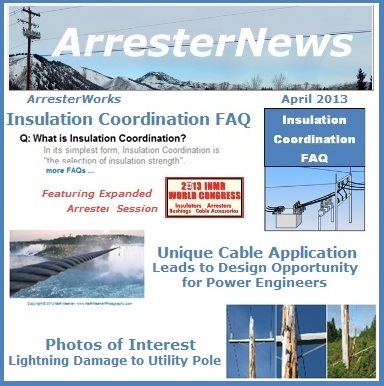 Articles Inside
1. Insulaiton Coordination FAQ
2. A Unique Application of Power Conductors
3. Survey: Do you experience pole damage from Lightning?

Online version of April ArresterNews
New Photos on Pole Damage Posted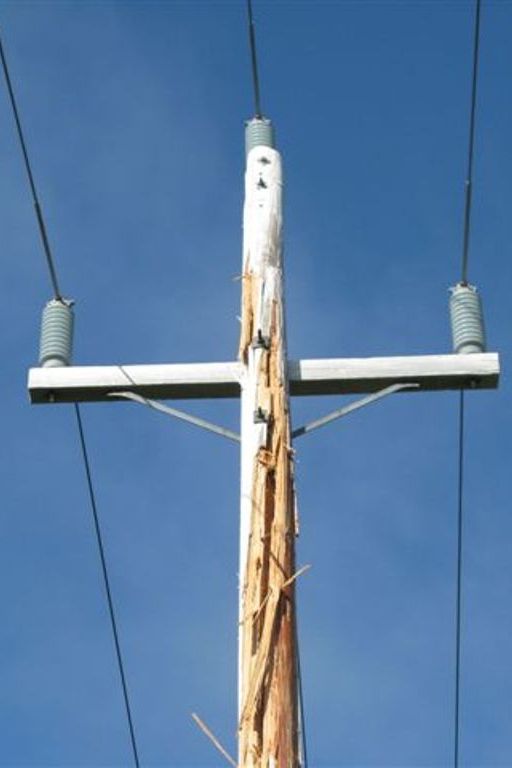 Check out these examples of pole damage. If you have experienced such damage, let us know.
Go to Photo Page
---
March 2013
ArresterFacts 042
Guide for Selecting an Arrester Field Test Method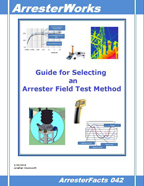 Overview
This ArresterFacts offers guidance when selecting the method to test surge arresters away from the lab environment
ArresterFacts 042 - Guide for Selecting an Arrester Field Test Method
Extreme Arresters
A Collection of Arrester Photos at Extreme Locations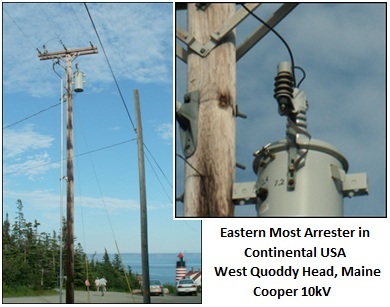 This first of the series Extrene Arrester Photos comes from West Quoddy Head, Maine, USA. Where the eastern most surge arrester in the Continental USA is located. Have a look.
Extreme Arresters Photo Page



New Forum Post
To Add An Extra Ground or Not, That is the Question


ArresterWorks has posed the question as to whether a parallel conductor is necessary for an arrester that is mounted on a transformer structure that is also grounded to the station grid.
Take a look at the complete question and photo.






---
Januray 2013
ArresterFacts 032
The Sheath Voltage Limiter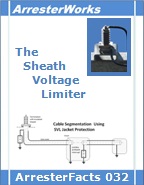 Overview
The ArresterFacts covers all aspects of Sheath voltage limiters including how to select the MCOV rating is now available.
ArresterFacts 032 - The Sheath Voltage Limiter
For those using ATPDraw to model Sheath Voltage Limters, there are two models that can be downloaded here.
SVL and Cable Model for Lightning Analysis for ATPDraw
(.acp file zipped)
SVL and Cable Model for Switching Analysis for ATPDraw
(.acp file zipped)
Donald E Raudabaugh
Inducted into Surge Protection Hall of Fame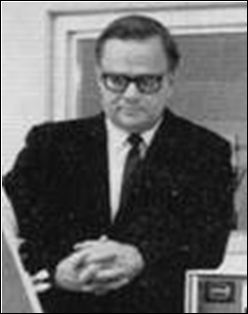 Donald E Raudabaugh is credited with initiating the "Polymer Housed Arrester Era" of surge arresters. In 1984 he applied for the first patent that lead to the introduction of the polymer housed arrester in 1986 by the Ohio Brass Company.
Complete Hall of Fame Citation
Hall of Fame Page





---
October 2012
No Ordinary Call for Papers
2013 INMR World Congress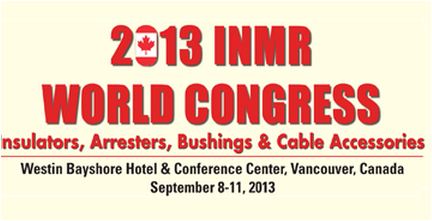 In September of next year ArresterWorks will be at the 2013 INMR World Congress and there is no doubt it will be an exciting time. If you have been involved in an interesting surge protection issue that is being or has been resolved, the world wants to hear your story. This is an opportunity of a career, to tell other like minded people what you have done and how you succeeded. We are looking for papers and presenters. If you are interested,
click here and let me know.
ArresterFacts 040
New IEEE C62.11 Arrester Test Requirements
Overview
In just a few weeks, the 2012 edition of IEEE C62.11 will be published. This new test standard is a dramatic improvement over the last edition in that it contains for the first time standardized energy handling tests.
ArresterFacts 040 - The New IEEE C62.11 Test Requirements (An Overview)
---
September 2012
ArresterFacts 038
Calculating Value of a Distribution Arrester?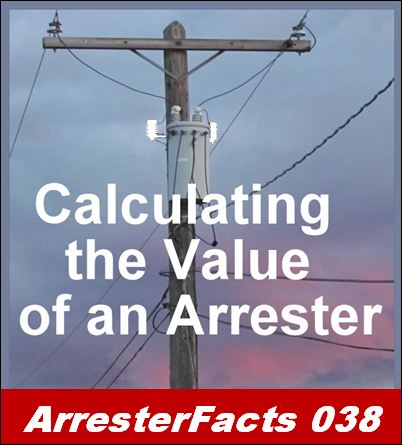 Overview
This ArresterFacts presents a new method of calculating the value of an arrester. In this evaluation, the arrester value is equal to the cost of equipment that would have to be replaced if the arrester was not present. A calculator is also on the Calculator Page that allows for a check of arresters in your area of interest.
ArresterFacts 038 - Calculating the Value of a Distribution Arrester
ArresterWorks' First Online Calculator...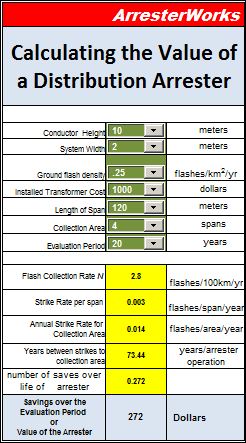 This on-line calculator can be used to check the value of your arrester.... Give it a try
On-line Distribution Arrester Value Calculator
ArresterFacts 033 Updated
An Overview of Proposed Energy Handling Tests in IEC 60099-4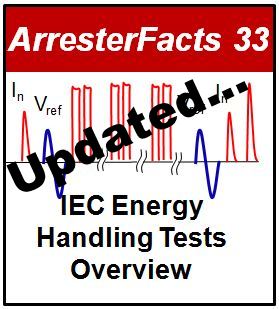 Later this year a significant change in the way arresters are rated relative to energy handling will become a standard. This ArresterFacts provides an overview of what is coming. Anyone that specifies, tests, manufacturers, or uses arresters should put reading this on their to-do-list.

Visit the ArresterFacts Library



---
August 2012
ArresterFacts 029
Distribution System Responses to Lightning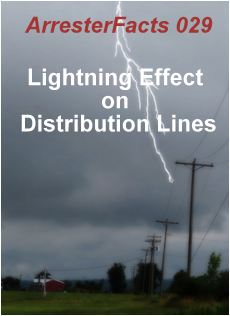 Topics Covered
1. Current and Voltage Distribution on a Line after a Strike
2. Arrester Behavior on a Line
3. Arrester Spacing Effects
If you have ever wondered how often to apply arresters on a line to reduce outages, this Arresterfacts is for you.
ArresterFacts 029 Distribution System Responses to Lightning Strikes
---
July 2012
ArresterFacts 028 "Understanding TOV Behavior of Arresters"
Published in Australiain Transmission & Distribution eMag June-July 2012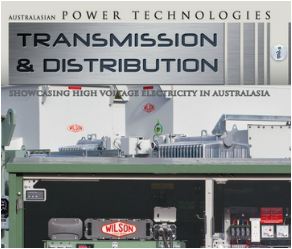 How an arrester responds to power frequency temporary overvoltages (TOV), is seldom discussed in the literature and a phenomenon that is studied even less. This Arresterfacts is a short synopsis of the topic that should introduce the reader to some of the aspects of TOV with respect to arresters
-Check it out-
---
June 2012
ArresterFacts 037
Insulation Coordination Fundamentals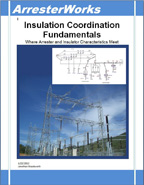 Topics Covered
1. Basic Insulation Coordination Definitions
2. Surge Characterstics
3. Insulation Characteristics
4. 2% Voltage Overview
5. Distribution System Insulation Coordination
Insulation Coordination Fundamentals - Where Arrester and Insulator Characteristics Meet -
---
AutoGap Arrester by Hubbard added
to ArresterWorks Virtual Museum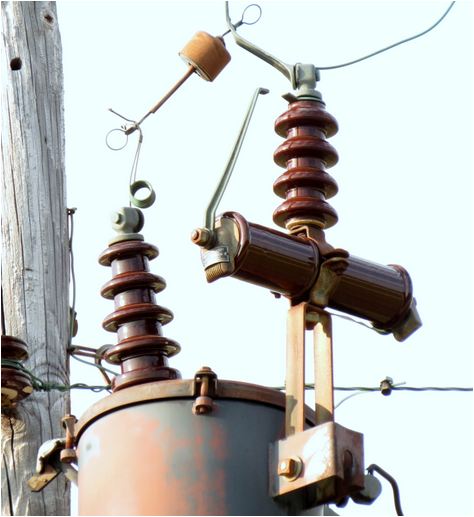 This Hubbard AutoGap Arrester has been protecting its transformer for for perhaps 60 years. Hubbard an arrester manufacturer introduced this arrester in 1952 and proclaimed better protection because it had two vents for expulsion of the arc by-products.
-Have a look-





---
April 2012
ArresterWorks Introduces


eConsulting in Surge Protection

A Rapid Response Engineering Service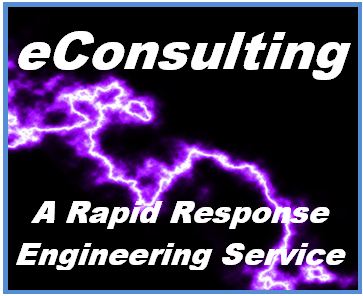 For the organization that needs expert help on a surge protection issue Right Now and you prefer not to initiate a long term high cost project. You just want to solve this issue and move on. Using everyday video and internet technologies, you can do it with eConsulting at ArresterWorks. Check out the eConsulting Service.



ArresterFacts 036
Arrester Condition Monitors - A State of the Art Review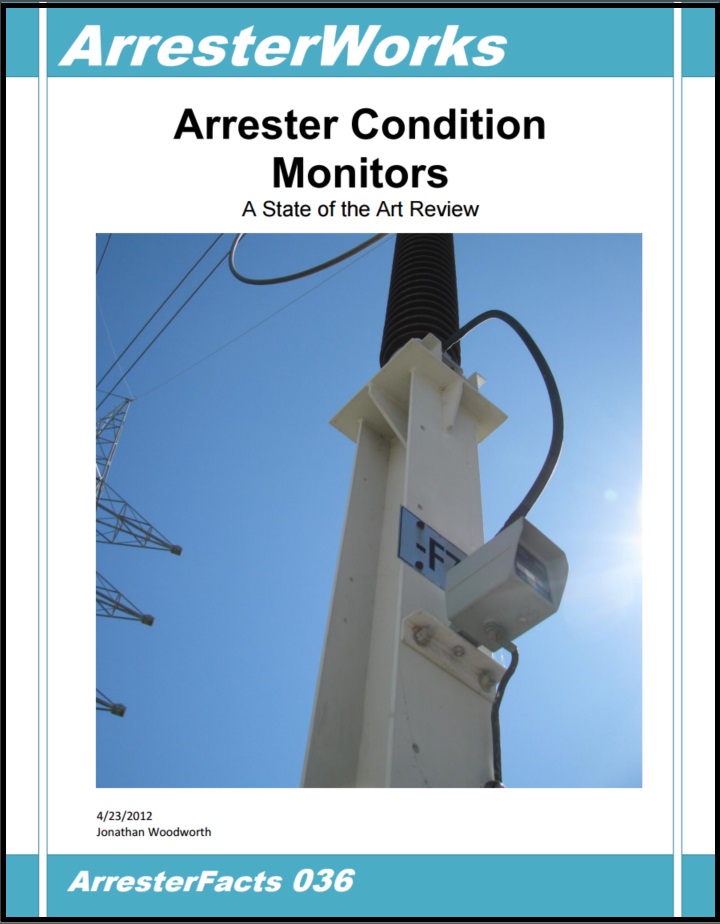 Topics Covered
1. Purpose of Arrester Condition Monitoring
2. Surge Counters
3. AC Leakage Current Meter
4. Third Harmonic Current Measurement
5. Partial Discharge Detection
6. Thermal Imaging
7. Off Line Arrester Field Testing

Arrester Condition Monitoring - A State of the Art Review -


eSeminar - Arresters 101 now available
for Group Lunch and Learn Type Presentations (on line)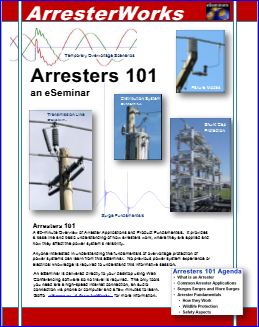 If you have a group that could use a better understanding of Arresters. Taka advantage of his free offer. ArresterWorks will do an eSeminar on Arresters based on your schedule. Conatact us for scheduling. Remember this qualifies for CEU credits.

Click here for Brochure on Arresters 101



---
February 2012
ArresterWorks Introduces eSeminar Series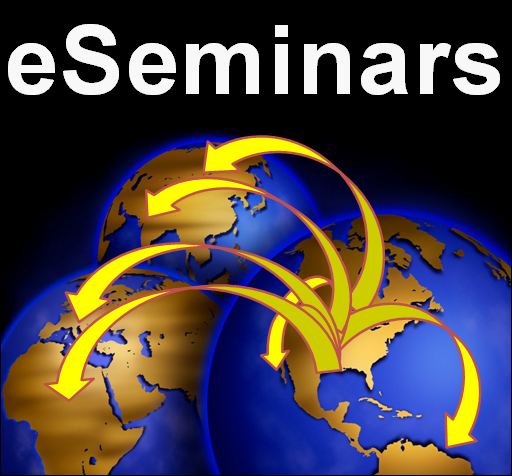 ArresterWorks has made learning about surge protection of power system easier and more cost effective than ever. Our new eSeminar series allows participants to eliminate travel costs and wasted time, by just participating in an online dialog on many surge protection subjects. Check out the eSeminar Series.

ArresterFacts 034
Conductor Size Considerations for Staton Class Arresters


Topics Covered
1. Diameter and Length Effects
2. Fault Current Considerations
3. Corona Considerations
4. Effect on Voltage Refelections
5. Mechanical Considerations
6. Ground Conductor Considerations
Conductor Size Considerations for Station Class Arresters

ArresterFacts 017a
Transmission Line Arrester Selectiion Guide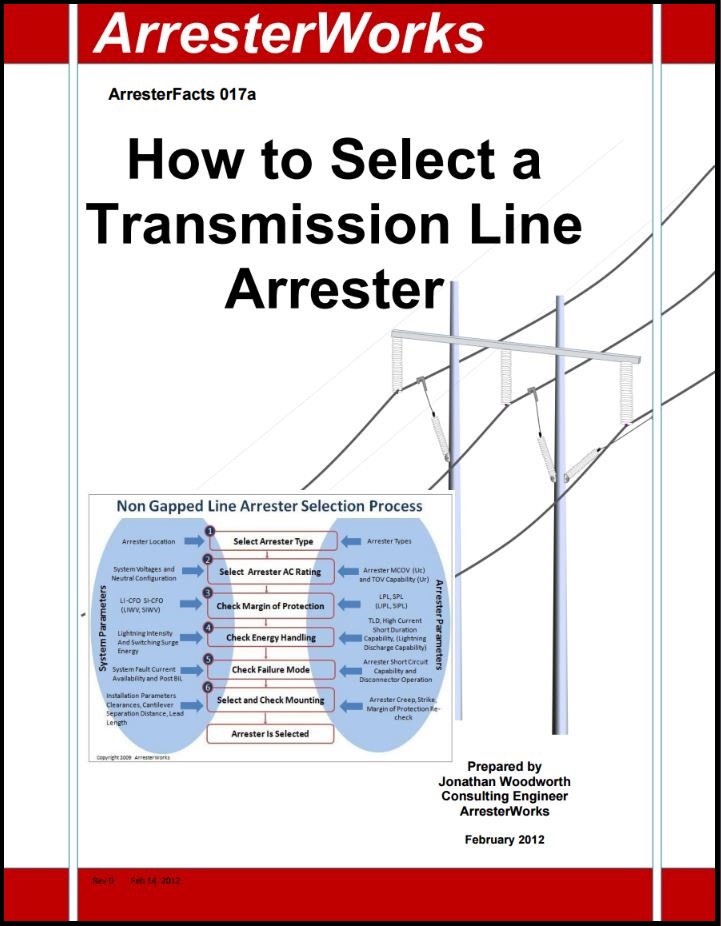 Topics Covered
1. How to determine the MCOV/Uc
2. How to select the Energy Rating
3. How to determine the Margin of Protection
4. The importance of Failure Mode
5. Mounting options overview
Transmission Line Arrester Selection Guide

What Constitutes an Arrester Failure?
Do you ever wrestle with the notion of what is a failure when it comes to arresters. This Facebook post discusses the subject a bit. Take the survey and send me the results.


ArresterWorks on FaceBook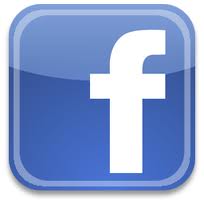 To make it easier for all you younger folks that use Facebook all the time, we now have a FB Page as a business...With Facebook at 850 million users, how can we go wrong.........Enjoy



---
Januray 2012
1988 Varistor Conference


In 1988 the Second and last International Varistor Conference was held in the US. An excellent photo of the attendees exists, however there is no identifying index for the attendees. Can you Identify anyone, if so, please let me know who. The lists and photos are in the History Article section Full photo of Conference List of Attendees List of Identified Attendees
Have a look on History Article Page


David W Jackson Inducted into Surge Protection Hall of Fame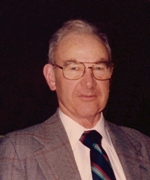 Dave W Jackson's career spanned 61 years. The entire time he was involved in power system design and applicaitons. He became involved in Surge Protection in 1960 and remained active in standards until 2007. Complete Hall of Fame Citation
Hall of Fame Page



Prof Hinrichsen Elected Chairman of TC37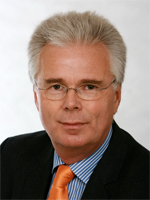 Professor Volker Hinrichsen has been elected Chairman of TC37 the Arrester Technical Committee of the IEC. Prof Hinrichsen replaces Michele De Nigris who has fulfilled that function since 1990. Prof. Hinrichsen started participating in IEC standards in 1992 and has been co-convenor of IEC TC37 MT4 since 2002 where he has repeatedly demonstrated excellent leadership. Arrester Standards Page



History of Arresters Used on Power Systems in the US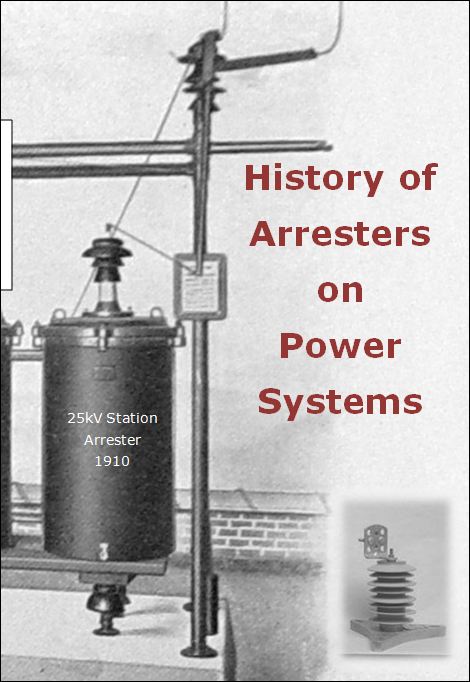 For the first time, a complete history of surge arrester used on power systems has been published. This history takes you from the first lightning protection devices to the latest polymner housed arresters of today.
US History of Arresters 1750-1890
US History of Arresters 1890-1930
US History of Arresters 1930-1965
US History of Arresters 1965-Present



---
December 2011
Created the ArresterWorks Virtual Museum


After years of procrastination, I have finally posted the beginings of our Arrester Museum (Virtual Style). The first exhibit is from a 1925-30 vintage Pellet Type arrester from GE. This is only the first of many exhibit postings. We hope to make this a collaborative effort of those that have photos of old arresters and are willing to share them. ArresterWorks will also gladly take donations of old arresters for our Museum and for the display in the virtual museum. Enjoy.....
-Have a look-

---
November 2011
CEATI Grounding and Lightning Workship Presentation

I was an invited speaker at the CEATI Grounding and Lightning Workshop to discuss applicaitons on Externally Gapped Line Arresters (EGLA).
-Have a look-
---
October 2011
Attended IEC TC37 MT4 and MT10 Arrester Standards Meetings

IEC Test Standard 60099-4 and Application Guide 60099-5 are very close to re-issue. The meetings were to discuss the latest editions. 60099-4 will publish its first CD in January. 60099-5 will publish an FDIS in January. Both documents are major upgrads to the previous documents.
Attended IEEE SPD Arrester Standards Meetings

IEEE C62.11 in very close to a new edition that has major improvemements in energy handling tests and methods. This document will be ballotted in the first part of 2012 and should be published in late 2012.
---
August 2011
Lightning Protection of Power Systems - Then and Now - Part 1

Finally I have found the time to start my Lightning Protection History Article, which I have been wanting to do for 5 or more years. It is coming in three installments over the next 3 months. Thanks goes to Waymon Goch of
Classic Connectors Inc
for giving me the encouragement to write it.
-Have a look-
Updated Project List

ArresterWorks isn't only the Best Surge Proteciton Website on the Net, it is First and Formost an International Consultancy focused on Surge Protecton of Power Systems. We have updated our project list to show the type of projects we are engaged in.
-Have a look-
Two New ArresterFacts

ArresterFacts 028
Understanding Arrester TOV Responses

How an arrester responds to power frequency temporary overvoltages (TOV), is seldom discussed in the literature and a phenomenon that is studied even less. This Arresterfacts is a short synopsis of the topic that should introduce the reader to some of the aspects of TOV with respect to arresters
-Check it out-
ArresterFacts 030
Modeling Temperature Rise of Arresters from Energy Absorption
This ArresterFacts explains how to predict the temperature rise in an arrester using hand calculations, Excel spread sheet, and ATP models. Several support documents are also availble on the ArresterFacts page including the ATP models. Enjoy
-Check it out-
---
July 2011
Lightning Study

Completed a Lightning Study on a 138kV transmission line in Eastern US.
After modeling the system in detail, it was concluded that the lines could not be flashing over due to lightning strikes to the shield. Further investigation revealed that the lines were experiencing a shield failure due to construciton over terrain sloping away from the lines.
" Arresters to the rescue!!! "

VI Characteristic Curve

Published an Excel based App to generate the Voltage-Current Characteristic curve of any arrester desired. It can be used in Modeling Arresters in ATPDraw.

- Check it out -
Arrester Temperature Rise Calculator

Published a second Excel based App that assists transient study experts in modeling the tempreature rise of an arrester after energy absorption.

- Check it out -
---
June 2011
Forum Entry on Marx Generator
See my latest entry in the ArresterWorks forum regarding Marx Generators and
A Marx Generator ATP Model can be downloaded here.
Published two new ArresterFacts:

ArresterFacts 026 Measuring Discharge Voltage on Fast Rising Surges
discusses for the first time, the new methods that will be specified in IEEE C62.11 when published in 2013. It also describes how the data shall be published in both IEEE and IEC literature.
ArresterFacts 027 Reference Voltage
is all about the important arrester characteristics Vref that is docummented almost nowhere. This is the most comprehensive treaties of this subject published todate.
---
May 2011
Arrester Standards Development
Attended both IEC and IEEE Arrester Standards Meetings. There is more going on in these two meetings today than there has been in a long time. Both standards writing groups are producing new test standards and will both publish in 2013. Significant changes in energy and charge transfer withstand will be included in the 2013 edtions.
---
April 2011
INMR World Congress in Seoul
Chaired the Arrester Session at the 2011 INMR World Congress Seoul South Korea Ten Excellent papers were presented by distinguished industry experts. Bill Chisholm a Canadian Consultant discussed special icing issues relative to line arresters, Plamen Bunov from Siemens presented results of recent tests conducted on the externally gapped arrester, Hans Ove Kristiansen from Doble, offered an interesting overview test methods for monitoring arrester health, Frederic Malpiece of Tridelta France, provided insights into the new energy handling tests as well as offered an overview of MOV disk manufactring, Georgij Podporkin of Streamer Inc, introduced the latest model of line protection arresters based on the multi-chamber concept, Hakan Westerlund from ABB presented an intersting overview of arrester monitoring options and offered an excellent overview of third harmonic measurements, Lars Klingbiel of Siemens presented the latest design details of the ACM, the newest arrester monitor on the market.
---
February 2011
New ArresterFacts
Published ArresterFacts 025 on Deadfront and Separable Arresters This latest ArresterFacts gives you the basics of the arrester plus shows why it is such an important part of surge protection in underground circuits. Clear plots are shown that demonstrate the voltage doubling effect and how it is mitigated with arresters at or near the open point
. Download PDF
. View online
---
December 2010
Surge Protection Seminar By ArresterWorks
March 2011
Orlando, Florida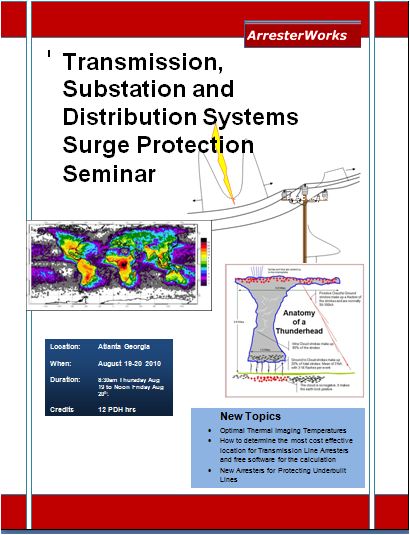 New Topics
Modeling Transmission Lines with ATP
Overview of Latest IEC and IEEE Energy Tests
---
November 2010
IEC Standards Meeting: Berlin Germany
There is a significant number of changes in the works on IEC 60099-4. In 2012 when this becomes a published standard, there will be very positive improvements in the way arresters are tested and evaluated.
More
---
October 2010
The 2010 North American Arrester Market and Product Report Now Available for Purchase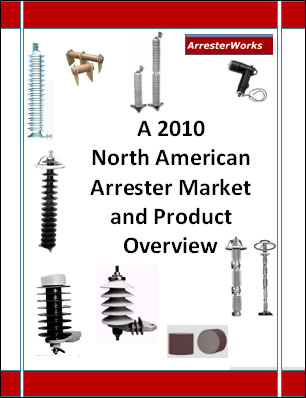 Send Email to Jonathan.Woodworth@arresterworks.com for pricing, table of contents, and delivery options.

---
September 2010
Participated in CEATI Conference
The Lightning and Grounding Committee of CEATI sponsored an excellent workshop on the same subject. ArresterWorks was the Featured workshop for the event.
Ways ArresterWorks can be of service to you:
If you are a Manufacturer
If you are a Utility or Arrester User
If you are an Educator